The Beer Festival – Iraklitsa Kavala 2019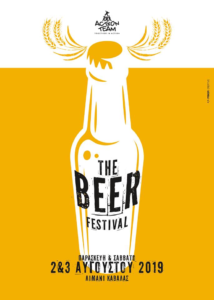 The 1st "Beer Festival" will be held by the Action Team, which will take place in Iraklitsa, Kavala, on the Voulas Kids stadium, with kiosks throughout the country on Friday 23rd and Saturday 24th August 2019.
Pineios Brewery will be at the Kavala Festival with Lola Beer for an enjoyable and tasting experience.
During the Festival the attendees will have the opportunity to enjoy a glass of quality beer, made from water, unique types of hops, ethereal malts of barley and other cereals, yeasts, miraculous flavors and aromas.
Visitors will also be given the opportunity to get acquainted with photographic exhibitions and workshops, how to produce the vintage beer and the people around it.
Of course, beer and music will not be missing since there will be special concerts by bands and unique DJs parties!