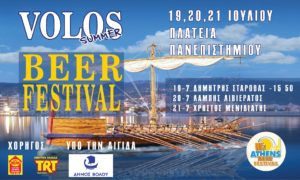 Lola Beer goes to Volos! "
The beloved Larisaiki beer, travels to the beautiful Volos where it will be for 3 days at the beer Festival which is organized for the first time in the city of Volos, by the organizers of the Athens Beer Festival.
The beer lovers will live three unique days on 19-20-21 July, with ice-cold beers from all over Greece and abroad, with wonderful beezers and live music.
We are waiting for you all at the Volos Summer Beer Festival, at the University Square for a three-day full of frozen Lola Beer and many musical events!