Thessaloniki Beer Festival 2019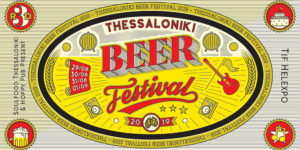 Lola Beer will be at the Thessaloniki Beer Festival 2019, organised by the creative team SoulFood Thessaloniki in collaboration with the internationally renowned the Hoppy Pub from Thursday 29th August to Sunday 1st September from 16:00 to 24:00, at Center of Thessaloniki in the large outdoor area of HELEXPO.
The Pineios brewery will be there and will be waiting for you at kiosk Νο8. to enjoy the quality frozen Lola Beer!
For four days the beer will flow abundant and the best choices from Street Food will be there to accompany it and of course the music company that will frame the festival will cheer up in frantic rhythms.
So do not miss the opportunity to be in the Thessaloniki Beer Festival 2019!
See more about Lola Beer: