30 years Nikos Zaf at Monk Bar with Lola Beer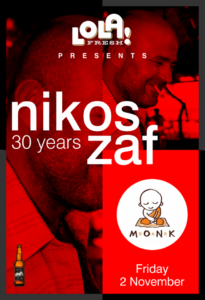 30 years Nikos Zaf in Monk, the time has come when you've all been waiting.
Nikos Zaf will be in Monk to accompany you with the best music and of course, Lola Beer will be near you. It is a fact that Lola Beer has become an integral part of our nightly entertainment since it is a beer that was loved by the people of Larissa and not only.
So do not miss the wonderful evening in Monk with Lola Beer, a beer with rich taste, fresh and undried. Hops lend moderate bitterness that balances perfectly the sweet taste of malt.