Acquaintance with the first beer of Larissa in panellinion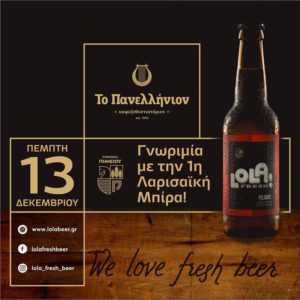 Do not miss the opportunity to enjoy in panellinion the first beer of Larissa Lola beer!
We care about our place and we always have as main goal to learn the beer Lola, a beer that will remain unforgettable.
Come to Panellinion in the center of Larissa, relax and enjoy one of our rich delicious and refreshing handmade beers.
Try the first beer of Larissa that is first everywhere: in quality, in the utilization of people and raw materials of our country, in the use of high technology, in respect of the environment.