Pineios Brewery presented its new beer Lola IPA!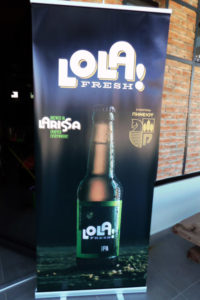 The official presentation of the new Lola IPA was held on Sunday 3/11/2019, in an all day event with parallel events. Visitors had the opportunity to try the new beer but also to learn about the method of manufacture, the materials and the history of the particular category.
Many chose to make a small tour of the production area to see the space produced by the three labels of the Pineios Brewery.
The beer was accompanied by excellent appetizers and the award-winning traditional cheese of Ganas's cheese.
Pineios Brewery today produces three types of beer: Lola Pilsner, Lola Belgian Ale and Lola IPA, which can be found in several places as well as in the brewery facilities.
The Lola IPA at first glance stands out from its bronze color, its slightly blurred appearance and its rich white foam. Smelling it, we distinguish aromas of citrus and freshly baked bread. Tasting it, we distinguish the bitter with spicy and earthy notes and light taste of bread and caramel. Its taste is clean, slightly bitter and with enough durability.
Lola IPA accompanies fatty foods and fish, as well as grilled and fried meats and especially loves the intensely aromatic and spicy cuisines such as Mexican, Thai and Indian. It also fits with sweets based on citrus fruits.