Pineios Brewery invites you to present the new beer Lola I. P. A!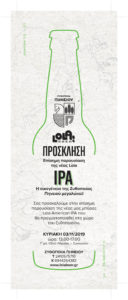 A new label was added to the family of Pineios Brewery. It is the LoLa American I. P. A, a special category for beer lovers.
Pineios Brewery invites you to the official presentation of the new Lola IPA beer which will be held at the brewery area on Sunday 03/11/2019 13:00-17:00.
The Lola IPA at first glance stands out from its bronze color, its slightly blurred appearance and its rich white foam. In the nose are distinguished aromas of citrus and freshly baked bread. Tasty, bitter with spicy and earthy notes and light flavor of bread and caramel. Its taste is clean, slightly bitter with enough durability.
Lola IPA accompanies fatty foods and fish, as well as grilled and fried meats and especially loves the intensely aromatic and spicy cuisines such as Mexican, Thai and Indian. It also fits with sweets based on citrus fruits.
Lola IPA was first presented at the Athens Craft Beer Festival 2019, and will be available at all collaborating points.
We are waiting for you all at Pineios brewery to meet our new beer Lola IPA and to live this unique experience.