Athens Craft Beer Festival 2019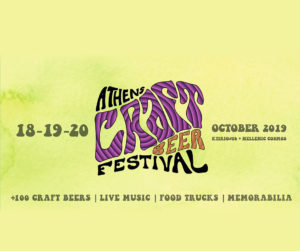 The first microbrewery festival in Greece is coming to Athens!
It is a pioneering and innovative festival exclusively dedicated to handmade beers. Of course Pineios Brewery could not be missing from festival with the beloved Lola Beer!
Athens Craft Beer Festival 2019 Attica will take place from 18 October 2019 to 20 October 2019 in Βuilding 56, in the "Greek world".
You will have the opportunity to taste handmade beers, Greek and foreign, known and beloved, rare and unreleased. You will enjoy live music and taste flavors that will boost your favorite beer!
Pineios Brewery will be waiting for you at the Athens Craft Beer Festival to enjoy the quality frozen Lola Beer!
The organizing of the Athens Craft Beer Festival is co-signed by the Vinetum companies (organizer of the Zythognosia exhibition) and the specialized distribution network of beer craft of the country, Cava di Patsi.
See more about Lola Beer: